Instant coffee with slightly sour cream
in it, and a phone call to the beyond
which doesn't seem to be coming any nearer.
"Ah daddy, I wanna stay drunk many days"
on the poetry of a new friend
my life held precariously in the seeing
hands of others, their and my impossibilities.
Is this love, now that the first love
has finally died, where there were no impossibilities?
Frank O'Hara, "Poem," 1956 (in Lunch Poems, p. 19)
"
Imagine, in any given context opening your mouth and watching a life-time's worth of sentence/s autocomplete before you.
Now imagine, in any given context standing in front of someone and watching a life-time's worth of their sentence/s autocomplete before you.
How does what you say change?
How your job and role will change if you are in the business of asking questions?
What happens when (with some degree of certainty) you know every question that's ever been asked?
"
- Jan Chipchase, "Autocompleted Questions," 2012
"O rigorous mathematics, I have not forgotten you since your wise lessons, sweeter than honey, filtered into my heart like a refreshing wave. Instinctively, from the cradle, I had longed to drink from your source, older than the sun, and I continue to tread the sacred sanctuary of your solemn temple, I, the most faithful of your devotees. There was a vagueness in my mind, something thick as smoke; but I managed to mount the steps which lead to your altar, and you drove away this dark veil, as the wind blows the draught-board. You replaced it with excessive coldness, consummate prudence and implacable logic. … Arithmetic! Algebra! Geometry! Awe-inspiring trinity! Luminous triangle! He who has not known you is a fool! He would deserve the ordeals of the greatest tortures; for there is blind disdain in his ignorant indifference. … But you, concise mathematics, by the rigorous sequence of your unshakeable propositions and the constancy of your iron rules, give to the dazzled eyes a powerful reflection of that supreme truth whose imprint can be seen in the order of the universe. … Your modest pyramids will last longer than the pyramids of Egypt, those anthills raised by stupidity and slavery. And at the end of all the centuries you will stand on the ruins of time, with your cabbalistic ciphers, your laconic equations and your sculpted lines, on the avenging right of the Almighty, whereas the stars will plunge despairingly, like whirlwinds in the eternity of horrible and universal night, and grimacing mankind will think of settling its accounts at the Last Judgment. Thank you for the countless services you have done me. Thank you for the alien qualities with which you enriched my intellect. Without you in my struggle against man I would perhaps have been defeated."
– Comte de Leautréamont
"Surfing, Cruising, Channel Surfing / The Gallery and the Excerpt"
We know this feeling, but more so its negative: the feeling is the satisfaction that comes with a "real" experience with a work of art. The details of this exchange vary wildly, of course–but for you, for now, think of the last time you were moved enough by a work to actually tell someone else about it after the fact. Place that story here. The negative of this feeling is the experience we share with the bulk of art we see in any given gallery. I think it's a less variable pattern: the requisite glance we give to every picture in every room, those nods we make to say that we have seen it. The MoMA is built with this circulation in mind. The next time you're there on a weekend, try standing with one work for more than ten minutes–you'll begin to feel like you're fighting the tide. 
We can't give our all to every work, of course (and would we even want to?), but I think that this rapid consumption comes from a longing: it is a scanning for an invitation, the search for a work you can really melt into. For Barthes, all but the most dedicated cruisers cruise with "the invincible idea that one will find someone with whom to be in love" (Grain of the Voice 299). In painting as in people, that revelation is thought to come in a flash, arresting the current of images through which we swim.
The coupe de foudre is thus the end of channel surfing. Channel surfing is a series of momentary glances at frozen images, all in anticipation of seeing that one frame which, in an instant, projects just enough promise to draw you in. Through art-cruising, we have come to treat the gallery like so many channels of cable television, like so many bodies.
It's no doubt a faulty model–so much pressure on an instant!–but this is why we have missed connections. This essay is a sort of missed connection to Joan Jonas's Vertical Roll. It was a name that I knew well, but I had never seen the video in motion until I visited the EAI Archive show at Dia:Beacon this past October. I don't think I even stopped walking. Post-glance, I simply filed it under "epileptic glitch video art" in my mental inventory and carried on, and after watching it again for this class I am embarrassed that that was ever the case. In part I think this happened because of when I came in (that vacuole of white space around the 1:20 mark, which caused me to assume it was all Paik-esque abstraction), as well as because the sound was constrained to headphones which I didn't don. But moreover I think it was because I fell prey to a common crime against video art: temporal synecdoche. Excerpting video does violence to the medium by reenforcing the idea that we can have it all in a flash – perhaps the most lingering effect of of our High Modernist hangover upon the gallery experience. It asserts a claim of stasis over the value of durational experience–if the content seems homogeneous enough, we can "get the picture" (the atemporal 'concept') and move on.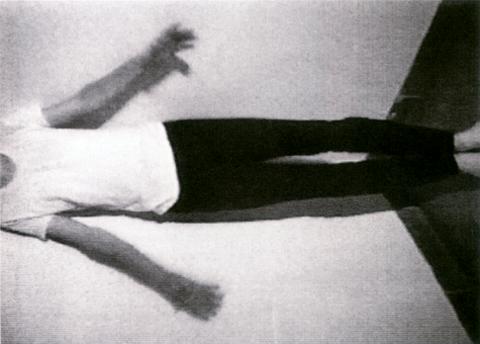 In some cases this is more tempting: Nauman is bouncing in the corner of Bouncing in the Corner No. 1more or less identically from start to finish. But if we suspend our suspense, so instilled by the cinematic economy of "payoff," a different value appears: dwelling reaps rewards, too. Nauman may not change very much from start to finish, but where my mind goes does. In spending time past the coupe de foudre, love percolates from details and duration. In even its most static works, early video foregrounds the value of this dwelling, and I think in that way it has something to teach us about other mediums as well. Morris Louis's Sigma is not the same after an hour, either. 
Vertical Roll finds something of a middle ground here. It is composed of a sequence of homogeneous scenes, but even their minimal action is sliced into "surfable" freezeframes by the vertical roll. Jonas's trick lies in acknowledging the promise of the coupe de foudre without ever bowing to it. You think you get the picture, but you can never grasp it. Hers won't be consumed so easily, and I feel a fool for ever thinking that it could be.
N.C.I., 14 2 2013, Portland